Hi everybody! I would like to announce a few new features I've implemented on my site.
I've created a mobile version of the site for Android, iOS, and Blackberry users. Just visit on your mobile device 🙂 There is switch on the bottom if you want to switch back to the full site.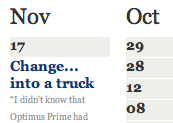 I have also added a new archives page where you can easily browse through all of my past posts. The archives link is available on the drop down menu of my blog or on the sidebar on the right.

You can now leave comments with your facebook accounts. Currently you can still leave comments without logging in also, but if I get too many spammer comments then I might change that.
I have also added a featured content slider on the homepage. I'll be updating it regularly with posts I think is important (like this one [for a couple days at least])
Let me know what you think of these new features I hope you enjoy them!