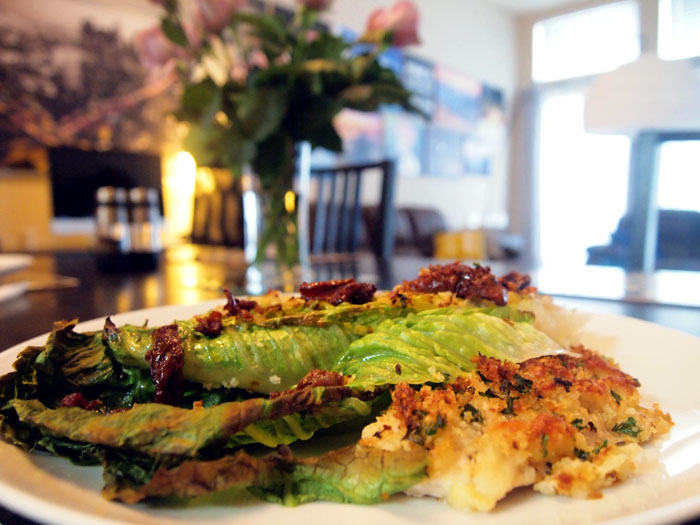 Active time: 10 minutes
Total time: 20 minutes
The heat chars the edges of the romaine leaves and softens the inner layers.
Ingredients
3-4 skinless, boneless chicken breasts
kosher salt
freshly ground pepper
1/2 cup grated Parmesan, Pecorino, or Asiago cheese (about 1 1/2 ounces)
1/2 cup panko (Japanese breadcrumbs)
3 tablespoons extra-virgin olive oil, divided
2 tablespoons chopped flat-leaf parsley
2 garlic cloves, chopped, divided (2 tsp)
1 large heart of romaine, halved lengthwise (or 2 small)
sun dried tomatoes
Preparation
Preheat oven to 450°F. Line a large rimmed baking sheet with foil. Season chicken with salt and pepper; place on prepared sheet. Combine cheese, panko, 2 tablespoons oil, parsley, and 1 garlic clove in a medium bowl; season with salt and pepper. Pat panko mixture onto breasts, but save some to top the romaine. Roast chicken until crumbs begin to turn golden, about 7 minutes.
Drizzle romaine with 1 tablespoon oil and sprinkle with remaining panko mixture. Season with additional salt and pepper (optional). Remove sheet from oven; place romaine right around chicken. Roast until chicken is cooked through and lettuce is browned at edges, about 8 minutes. Top lettuce with sun dried tomatoes when there is a minute left
Serve with your dressing of choice. I recommend a citrus vinaigrette. This is one we came up with:
¼ cup olive oil
⅓ cup fresh orange juice (2 oranges)
1 tbsp honey
2 tbsp balsamic vinegar
1 tbsp Dijon
¼ tsp oregano
¼ tsp ground pepper
Inspired by: this recipe